The ever-changing sea and the bare yet beautiful landscape of autumnal Tinos, Greece inspired me to record an instrumental album in the first place. 'Facing the Sea' started on my iPhone in late 2021: A snapshot provided the cover photo as well as the title and the tune 'Wanderlust' was recorded that way while overlooking the sea. 
I had the tune already written in Basel but didn't know what it should be called. This can be the curse of instrumental tunes as you want to find a title that fits the music yet doesn't tie it to some specific meaning/image that may hinder the listener's imagination. The solution in this case was rather curious: While shopping I decided to buy a beer for dinner yet couldn't decide between the rather accidental choice of I.P.A and assorted 'Craft Beers' - so I just grabbed some bottle and left it at that. Upon opening said bottle I spotted the name 'Wanderlust' and immediately realized that this should be the title of my unnamed tune!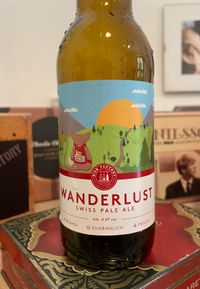 When I made the decision to start recording my instrumental album I knew that 'Wanderlust' should be part of it. Obviously the sonics of the iPhone recording were not great - it works in context of the 'snapshot' of the clip but as a dedicated recording it needed to sound better. But I also liked the fact that it came from Tinos and was done 'absolutely live'.  So rather than re-record the tune tryin' to create the same vibe I decided to double the original in my studio using the same Taylor GS Mini guitar. 
So what you hear on the album (and the synchronized clip) is still the original recording from Tinos doubled with an additional take from Basel. I hope that I could retain the spirit of the place yet make it sound compatible with the other tracks that all were recorded at home in Basel.
---
Das wechselhafte Meer und die karge, faszinierende herbstliche Landschaft der griechischen Insel Tinos inspirierten mich, überhaupt ein instrumentales Album aufzunehmen. 'Facing The Sea' begann Ende 2021 auf meinem iPhone: Ein Schnappschuss wurde zum Albumcover und Titel, und 'Wanderlust' nahm ich vor dem Panorama des Meeres auf. 
Ich hatte den Song bereits in Basel geschrieben, wusste aber nicht, wie ich ihn betiteln soll. Dies ist oft die Crux von Instrumentals, einerseits will man einen Titel finden, der zur Musik passt, anderseits will man aber auch nicht die Assoziationen der Hörer beeinflussen. Die Lösung hier war eher speziell: Während des Einkaufens beschloss ich, mir ein Bier zum Abendessen zu genehmigen. Doch die Auswahl mit fast ausschliesslich neumodischen I.P.A und 'Craft Beers' machte mich ratlos und so griff ich einfach zufällig zu einer Flasche. Als ich dann abends dieses Bier öffnete sah ich den Namen 'Wanderlust' – und schon wurde klar, dass dies der passende Titel für mein Instrumental ist! 
Als ich dann beschloss, ein komplett instrumentales Album aufzunehmen, wusste ich, dass 'Wanderlust' dabei sein sollte. Der Klang der iPhone-Aufnahme war aber natürlich nicht toll – es funktioniert als 'Schnappschuss', mit dem Clip aber als reines Audio musste es besser klingen. Natürlich gefiel es mir, dass die Aufnahme aus Tinos und auch ganz 'live' gespielt war. Anstatt nun zu versuchen,diese Atmosphäre zu rekonstruieren, beschloss ich, die Aufnahme zu doppeln und dabei die gleiche Taylor GS Mini Gitarre zu verwenden. 
Was Ihr nun auf dem Album und dem neu synchronisierten Clip hört ist, ist die originale Aufnahme aus Tinos gedoppelt in meinem Studio in Basel. Somit hoffe ich, den Geist des Ortes bewahrt zu haben, gleichzeitig aber die Aufnahme mit den anderen Songs des Albums in Einklang zu bringen.